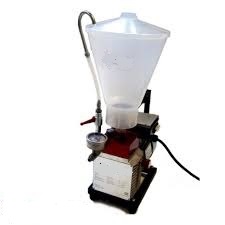 Injection pumps (1 or 2 components) for horizontal bariiers, pumps for injection of polyurethane and epoxy resins, acrylic gels and cement slurries.
Description
1-component pumps

The main advantages of this pump are high efficiency, precise dosing, easy cleaning and high pressure efficiency. This pump can be used with an injection gun or an injection valve. The pump can be supplied in wheels on request.
Technical information:
Engine power 0,75 kW
Power supply 230 V / 50 Hz
Delivery 4 L/min
Max. working pressure 230 bar
Max. delivery range 20 m
Loudness 75 dB
Cable 3 m
Tank 6 L
Weight 25 kg
Handy pumps

Used: For minor injection works.
Description: Chemical resistant sealings made of tefl on and viton are used in pump. Body of the pump is made of galvanized steel. Version with manometer is also available.
Technical information:
| | |
| --- | --- |
| Hose | 50 cm |
| Volume | 1 litr |
| Max. working pressure | 400 bar |
| Weigth | 1,23 kg |
| Length | 485 mm |
| Diameter | 56 mm |
2-components pumps
Description: The reciprocating pump PN-1412-3K Compact stainless steel is equipped with a forced mixing control and a separate rinsing pump. The material is delivered at a fixed mixing ratio of 1 : 1. The big and exactly operating valves provide both high flow rate and high mixing accuracy. The packing sets inside are tensioned by an integrated spring so that there is no need to tension them manually. The pump is very easy to maintain and low wearing.
Material to be used
•  2-component injection resin
•  Acrylate gel
Technical information:
| | |
| --- | --- |
| Working pressure | 10 – 200 barów |
| Max. delivery | 8,5 L/min. |
| Air pressure | 8 barów. |
| Mixing ratio | 1 : 1 |
| Air consumption | 500 L/min. |
| Weight | 65 kg |
| Rinsing pump | |
| Working pressure | 20 – 250 barów |
| Delivery | 3 L/min. |